2020 Jeep Gladiator Dimensions and Specs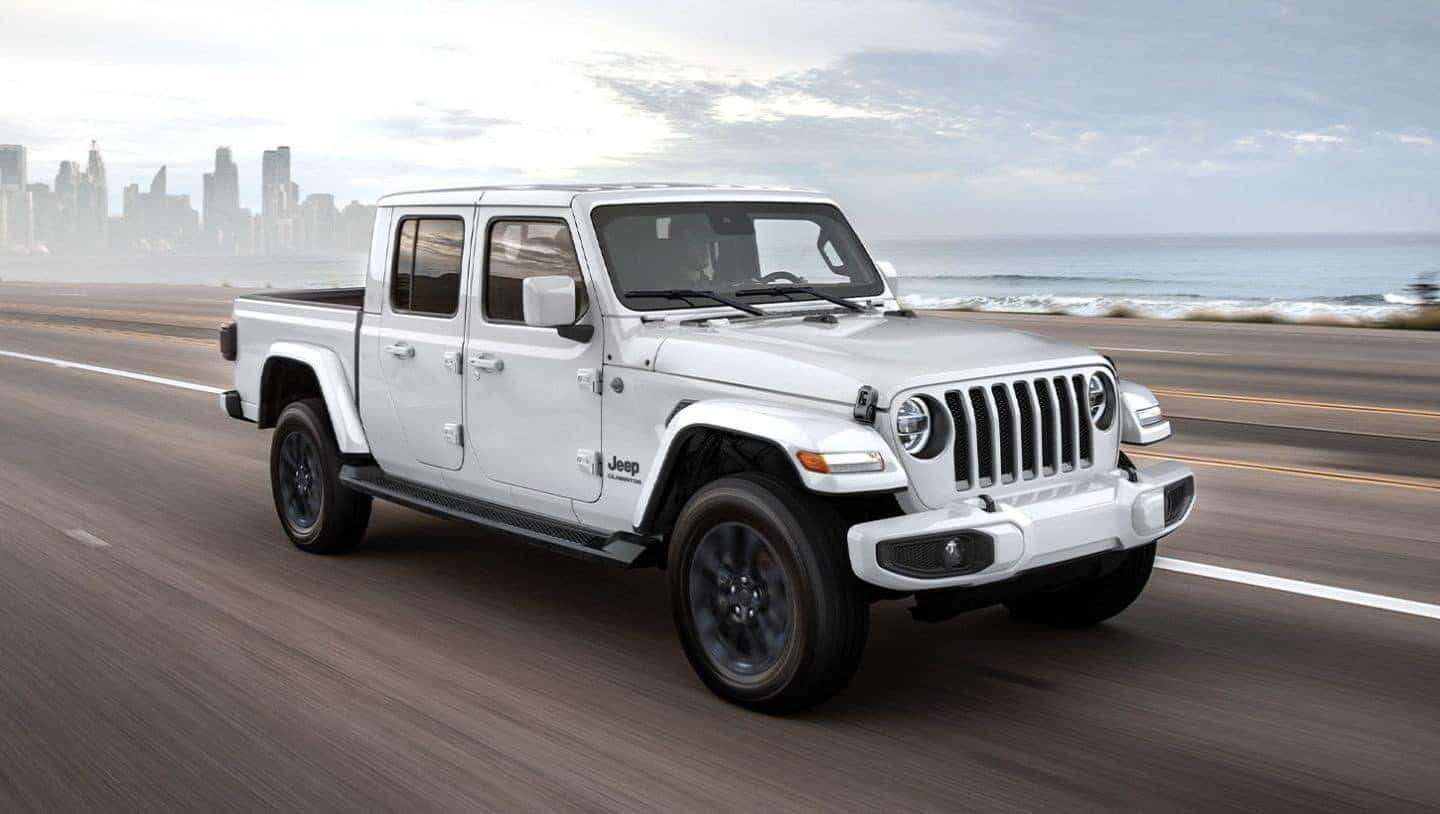 The brand-new 2020 Jeep Gladiator has been one of the most heavily awaited vehicle releases here in Vero Beach, and for good reason. The new Gladiator pickup provides similar off-road capabilities and unbridled fun-factor as its automotive cousin, the Jeep Wrangler. What's more, the Gladiator offers even more practicality. For instance, it's towing capacity is more than the Wrangler. Want to learn all about the new 2020 Gladiator truck near Fort Pierce? Our team is here to help you explore the Jeep Gladiator dimensions and specifications!
Jeep Gladiator Exterior Dimensions
The 2020 Jeep Gladiator is just the right size for many Palm Bay and Sebastian shoppers. Classified as a midsize truck, it is far more maneuverable than most half-ton trucks, and also fits in most garages. Its comparatively-diminutive size also makes it more efficient than many other trucks, an added bonus. Take a peek at Jeep Gladiator length, bed size, wheelbase, and more for further details:
Jeep Gladiator length: 218.1 inches
Jeep Gladiator width: 73.8 inches
Jeep Gladiator height: 73.1 inches
Jeep Gladiator bed size: 60 inches
Jeep Gladiator wheelbase: 137.3 inches
Jeep Gladiator Interior Dimensions
Let's face it, everybody likes a little more space to stretch out during Fort Pierce drives. Thankfully, the Jeep Gladiator is every bit as comfortable and convenient as it is fun and practical. 2020 Jeep Gladiator interior dimensions and specs are as follows:
Jeep Gladiator seating capacity: Up to 5 passengers
Jeep Gladiator passenger volume: 104 cubic feet
Jeep Gladiator rear headroom: 42.8 inches
Jeep Gladiator rear legroom: 38.3 inches
Jeep Gladiator front headroom: 42.8 inches
Jeep Gladiator front legroom: 41.2 inches
Experience the 2020 Gladiator Dimensions with Vatland CDJR
You've now had a chance to explore the 2020 Jeep Gladiator bed size, wheelbase, length, and overall specs. If you'd like to learn more about what the Gladiator offers in its spacious interior, don't hesitate to contact us online! Here at Vatland CDJR, we can't wait to help you find and finance the new Jeep of your dreams near Melbourne!
More from Vatland CDJR
Have you been dreaming about getting behind the wheel of a Dodge Challenger? What about a Jeep Grand Cherokee or a Chrysler Pacifica? Regardless of the vehicle you've been thinking about, financing your dream vehicle is the way to go.  Keep reading to learn more about what financing is and how it can help you…

The new year is upon us, and it's time to start fresh with new goals and attitudes. What better way to start the year than with a new vehicle? If you're in the market for a new truck, the Jeep Gladiator should be at the top of your list. The Jeep Gladiator is a vehicle…

The Jeep Cherokee and the Nissan Rogue are two of the most popular compact SUVs on the market, and for good reason. These versatile and capable vehicles offer a range of features and technologies designed to meet the needs of modern drivers. But which one is the better choice? If you're in the market for…