Built for Greatness: The 2021 Jeep Gladiator v. the Ford Ranger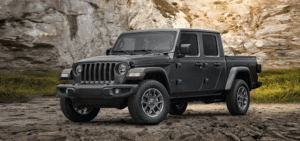 At Vatland CDJR, our team watches our competition closely. We know our brands. We are confident in our vehicles. We know that if you're looking to get the job done, your search should begin and end with a 2021 Jeep Gladiator.
When comparing the Gladiator with another top-seller in its class, the Ford Ranger, it's easy to see how the Gladiator comes out on top. With capabilities that trump the competition, interiors that rise above the rest, and features that stand alone, the Jeep Gladiator is always the truck to beat.
Capabilities
Our team understands that when our friends and neighbors in Vero Beach want to get a job done, they want a truck that works smarter, not harder. You'll find that – and more – in the Jeep Gladiator.
Whether you're headed to the job site or the beach, you need towing power that counts. With available Best-in-Class towing, you can hitch up the camper, the jet skis, or the trailer loaded with work equipment, and know you're getting better than the rest. Our gas towing capacity of 7650 pounds when paired with our supercharged 3.6L Pentastar V6 engine doesn't even compare with the Ford Ranger's 7500 pounds.
Although the Ford Ranger comes in at a reasonable 1650-pound payload, we've still got the blue ribbon you're looking for with a Best-in-Class 4×4 payload of 1700 pounds. Plus, the Gladiator also sports a tough, rugged, all-steel 5-foot truck bed, making it the stand-out when it comes to adventures, big or small.
With great power comes great responsibility. When you need to stop in a hurry, you can count on the Gladiator. Sporting the largest brakes in its class, with front brakes measuring at 12.9-inches and rear brakes at 13.6-inches, you've got the power you need to stop on a dime. Our friends at Ford will have to hit it hard and hold on tight – both the front and the back brakes are smaller than ours.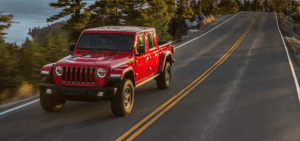 Interiors
You'll find premium materials and an obsession with details inside the Gladiator. We know it's tough – but that doesn't mean it can't be attractive!
Even when you're working, you deserve comfort. The Gladiator kept the folks in the back seat in mind when they designed the interiors. Our Best-in-Class Rear Seat Legroom measures a whopping 38.3 inches. It's likely that you'll pass your friends in the Ford Ranger when they stop to stretch their legs after being cramped in the back with only 34.5 inches to squeeze into – ouch.
Features
We know it may seem a little petty, but there is no comparison to the Jeep brand open-air freedom you've come to expect and appreciate. When you're ready to feel the salty breeze, you're going to get it in spades with the Gladiator. Unparalleled freedom is what you'll find with four different top options, easy-to-remove doors, and a fold-windshield. The Gladiator is the Only Open-Air Truck in the industry.
We've even cornered the market in technologies! Our 8.4-inch touchscreen places a world of connectivity right at your fingertips with an intuitive and easy-to-use touchscreen that's the largest available touchscreen in its class, and that class includes the Ford Ranger.
You can ask around at Ford, but we're confident they're not going to have a Trail Rated truck. In fact, our Gladiator is the Only Trail Rated Pickup Truck – Ever. The Jeep Trail Rated badge promises the consumer that the vehicle has endured torture-testing and proven itself unparalleled in the face of harsh conditions and challenging terrain. Trail Rating provides:
Forward-Facing Off-Road Camera. Other midsize trucks just wouldn't go there, but the Gladiator does. Our Segment-Exclusive available forward-facing off-road camera includes gridlines to outline the best possible pathway for you to traverse over obstacles that lie in your path. (It also comes with an integrated camera lens washer, just in case.)
Electronic Disconnecting Sway Bar. Hit the most uneven terrain with confidence with a Segment-Exclusive Electronic Front Sway Bar Disconnect. You can disengage with the flip of a switch for improved articulation and maneuverability over massive obstacles.
33-Inch Rubico All-Terrain Tires. Enjoy ground clearance that you need and want with 33-inch All-Terrain Tires. Perfect for those muddy trails and rocky shorelines.
About Us
At Vatland CDJR, we put our Gladiators up against any other midsize truck on the road today. There's a reason they're named the Gladiator. Tough, resilient, hard-working – these trucks get the job done and know when to have fun, too.
Visit us on South, US-1. Take the Gladiator out for a drive. Watch heads turn. Catch plenty of double-takes. Play with the features. Enjoy the power. Then, let's work together to put this truck in your driveway. You won't be disappointed.