The Lincoln Continental: It's Not What You Remember
Many of us have special memories of sitting on top of the console in the backseat of our grandmother's broad and boxy Lincoln Continental. That built-in booster seat was the perfect perch to see the world while we drove down the road. 
At Vatland Chrysler Dodge Jeep Ram, our sales team will be the first to tell you that those days are long gone. Today's Lincoln Continental is sleek and modern. With roomy, elegant interiors, exciting technological enhancements, and more safety features than our grandparents could have ever imagined, the Continental engineered for today is worth a second look. 
Interiors 
Our luxury interiors allow your sense of style to carry over into your vehicle. With customizable temperature controls and the option of heated and ventilated seats in both the front and rear, your comfort is paramount. Settle into deep, soft leather in the color of your choice, and enjoy the ride! 
Interior amenities are easily identified throughout the cabin. The center console and laser-cut roll top cup holder door both use connecting lines to present a flowing elegance you won't notice in other vehicles. Eye-catching wood inlays and a fully retracting front driver's seat as you exit are just two ways Lincoln makes your interior as stylish as you are. 
Lincoln has engineered another way to help drivers keep their eyes on the road at all times. The Head-Up Display projects essential driving data onto the windshield, including speed, temperature, time, and mileage. The Head-Up Display is visible in all lighting conditions, even when you're wearing sunglasses. 
Everyone could use some peace and quiet. Inside your Lincoln Continental, we've used microphones to monitor the cabin's sound profile. Opposing acoustic waves are emitted through the speakers to cancel out unwanted noise, thereby making the cabin's sound quality pleasant perfection. 
Technology 
SYNC 3 technology is easy to use and essential for someone on the go. Quick response to voice commands and a smartphone-style touchscreen put all your most important contacts, navigation controls, playlists, and podcasts within reach. Use the available Navigation System to make your trip hassle-free! 
Every extraordinary journey needs a playlist. With 19 expertly placed speakers in the Revel Ultima Audio System, you'll never miss another beat. With three distinct modes, including Stereo, Audience, and Onstage, you can choose how you want to engage with your favorite songs and artists. 
A Configurable Digital Display means you're never inundated with unnecessary data. Select the information that's most important to you and choose it for display. While certain information is standard, other data can be added or removed from the display.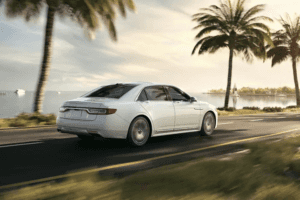 Safety    
As much fun as it was to sit on the booster seat in the back of Grandmother's car, it was terribly unsafe. Today, Grandmother would be shocked at the innovative safety technologies employed to keep you and those you care about as safe as possible while journeying. Many of our safety features are standard to the Lincoln Continental, but be sure to ask one of our sales team which of these are standard on the model in which you're most interested: 
Pre-Collision Assist with Automatic Emergency Braking.

If our system detects you're traveling too fast for the traffic ahead, you're alerted to slow down. If you don't take corrective action, our system will activate Automatic Emergency Braking to avoid a collision. 

Lane-Keeping System.

Using cameras to detect road markings, this system helps keep you well within your detected lane of traffic. If it detects that you're drifting over into another lane, you'll get a subtle warning. If you drift more than a few times, the system will remind you that a stretch of the legs may be necessary. 

Auto High Beams.

You may not consider headlights a safety feature, but then you've never seen these. Our system detects ambient light levels and automatically dims and brightens your lights accordingly. You won't ever unintentionally blind a fellow traveler or be unable to see clearly in the fog again. Let our sensors do the work for you. 

Blind Spot Detection with Cross-Traffic Alert.

If a vehicle enters your blind spot, our system alerts you to their presence with a small light in the corresponding side-view mirror. It's that easy and that fantastic! 
Cross-Traffic Alert warns you if, while in reverse, you have traffic approaching from either side. No longer do you have to inch out into a busy parking lot and hope for the best. 
About Us 
We've been serving our friends and neighbors in Vero Beach long enough to know what you're looking for in a luxury vehicle – and the Lincoln Continental has it all. Take a test drive and walk down memory lane with us. Your grandmother will be so proud!