What Drivers Love About the 2022 Ram 1500
At Vero Beach Vatland CDJR, we know that when it comes to hauling heavy loads, you need a truck that works as hard as you do. That's why we can't wait to show you the all-new 2022 Ram 1500. 
This light-duty truck can do it all. Whether you use it for work or play, commuting or towing, the Ram 1500 is in it for the long haul. Its powerful engine, sky-high towing capacity, and comfortable interior are just some of the reasons we think this pickup truck is just right for you. 
Performance and Capability
It wouldn't be a Ram truck if it didn't have an ultra-powerful high-performance engine running the show. You'll be able to pick your poison, whether it's the more efficient Pentastar V6 with Etorque or the supercharged Hemi V8.
If fuel economy is the name of your game, try the 3.6L V6 engine, which will give you a combined MPG of 23. If you do a lot of heavy towing, the 5.7L Hemi has you covered. This monster engine has a towing capacity of 12,750 pounds and boasts 395 horsepower to boot. 
The body of the 1500 is made of high-strength steel, allowing for greater tensile strength and durability. This stiff and sturdy frame can handle up to 2,300 pounds maximum payload, so you won't have to leave anything behind again. 
Reversing while hauling a trailer is no longer a pain in the new 1500, thanks to the available trailer reverse steering control system. This feature takes over the truck's steering while you focus on controlling your trailer with the Trailer Steering Knob. 
Drive with confidence and complete control with the 1500's suite of driving assist features. Systems such as Electronic Stability Control, Trailer Sway Control, and Hill Start Assist will help you get the most out of your 1500. 
Comfort by Design
On the outside, the Ram 1500 is rugged, strong, and powerful, but once you climb inside the cabin, it is all sophisticated style and comfort. Every facet of the interior is designed with premium materials to give you the most enjoyable ride you'll find in a light-duty pickup. 
If you're out on the worksite often, or if you frequently go off-road, you'll love the new air filtration system. This system keeps out 95% of particulates in the air, such as dust or smoke, allowing you to breathe easier in all kinds of conditions. 
Clean air and crisp sound. The new Ram 1500 comes equipped with the Harmon Kardon Premium audio system, featuring an impressive 19 speakers. And thanks to the active noise cancellation system, you'll be able to dampen outside noise pollution and simply enjoy the ride. 
The Ram 1500 isn't just comfortable for the driver. Your passengers will get the full 1500 experience with best-in-class 45.2 inches of legroom and eight degrees of rear seat recline. 
Across the board, the 1500 is both luxurious and dependable and everything you could possibly need in a light-duty truck.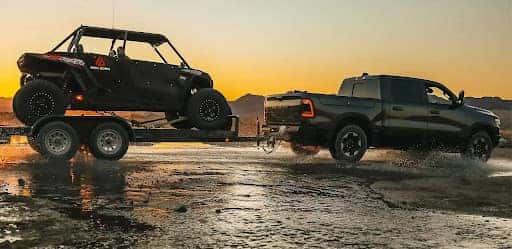 Safety and Security
Your safety is our top priority at Vatland CDJR. That's why we are excited about the suite of safety features the new Ram 1500 has to offer. 
Driver Awareness and Assistance.

Maintaining awareness on the road when you've got a huge haul behind you can be tough, so the Ram 1500 was designed to alleviate some of that stress. The Blind Spot Awareness and Rear Cross Path Detection systems keep an eye on your rear, while Forward Collision Warning monitors the vehicles ahead. 

Best-in-Class Braking.

The 14.9-inch brakes that come standard on the Ram 1500 are the largest you'll find on any light-duty pickup. The available Pedestrian Emergency Braking system is always on alert for unexpected obstructions and can assist in applying the brakes if necessary. 

Head-Up Display.

With this futuristic feature at work, you'll never have to take your eyes off the road. The reconfigurable display projects essential information like speed and turn-by-turn navigation right onto your windshield. 
These are just some of the life-saving technologies you'll find on your new Ram 1500. For more information on all the available features, please speak with one of our team members. 
About Us
At Vero Beach Vatland CDJR, we can't wait to tell you about all the ways the Ram 1500 will upgrade your ride. Its superior towing capabilities, luxurious design elements, and state-of-the-art safety features make this light-duty truck perfect for workers and families alike. 
We encourage you to stop by 855 S US-1 in Vero Beach and speak with one of our team members. You'll be able to take one of our Ram 1500s out for a test drive and find out for yourself just how amazing this pickup truly is.