You've Got Nothing On Us: 2021 Jeep Grand Cherokee L vs. Ford Explorer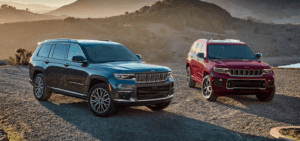 Our team at Vatland Chrysler Dodge Jeep Ram has never been prouder of our brand. The brand-new 2021 release of the first-ever three-row SUV matters. For growing families or for folks just looking for more room in general, the Jeep Grand Cherokee L is everything you'd expect and all you'd want in a three-row SUV.
In comparison with one of our closest competitors, the Ford Explorer, there's no denying the capability, convenience, and fun of the Jeep Grand Cherokee L.
Capability
Jeep has carried over everything that made the Grand Cherokee the Most Awarded SUV of All Time into the L model. This means you can expect to find all the features you love; however, there are improvements!
The towing power on the Jeep Grand Cherokee L is unparalleled. With the Ford Explorer only able to tow a maximum of 5600 pounds, you're limited in what you can do and what you can haul. With an available maximum towing capability of 7200 pounds, the Grand Cherokee L gives you the muscle you need to go where you want to go – and back again.
You'll also find outstanding all-weather capabilities thanks to the Jeep Selec-Terrain Traction Management System. This system, unlike any other, allows you to plan for the journey ahead. Choose from Auto, Sport, Rock, Snow, or Mud/Sand at the flip of a switch. Drive with confidence knowing you've got the versatility you need at your fingertips.
For those who need that little extra for adventuring onto the trails less traveled, choose the Grand Cherokee L Overland, which earned the highly sought-after Jeep Trail Rated Badge. With the Trail Rated badge, you'll have the power and capability you need to meet any obstacle in your way. The Trail Rated Badge promises:
Water Fording.

Power through up to 24 inches of water with high air intakes and exceptional water sealing combined with the Jeep Quadra-Lift Suspension System. To Grandmother's house we go!

Ground Clearance.

Up to 10.9 inches of ground clearance protect the underside of your vehicle so that you can head off-road with confidence.

Articulation.

Your wheels will stay engaged and on solid ground, giving you the articulation you need to head up and over.

Traction.

Traction is key to off-roading, and you'll have every wheel working to drive you forward. Legendary Jeep 4×4 systems ensure you'll have the traction you need when you need it most.

Maneuverability.

Precision steering and optimized wheelbases enable you to veer around narrow gaps and effortlessly maneuver around obstacles and tight spots.
You won't find these kinds of engineering options on our competitor's models. They just aren't as focused on the versatility you need to transition from a daily commute to weekend off-roading – but we are.
Convenience
We want to make travel smarter, not harder. Considering the amount of time most of us spend on the road, Jeep wants your vehicle to be a comfortable extension of your home. With craftsmanship, attention to detail, and innovative designs, we created a premium cabin that calms. Our Summit model was voted Most Luxurious Vehicle in its Class.
You won't hear the Ford Explorer claim Best-in-Class Legroom because that accolade was awarded to us! With 39.4 inches of legroom in the second row, passengers can stretch out, relax, and enjoy the journey.
Be sure to ask your sales team member about available luxuries like driver and front passenger 16-way adjustable seats with memory and massage for the ultimate in comfort and support. With amenities like these, you'll enjoy the ride so much you won't want to leave.
No matter where you go, you need to stay connected. Nobody – and we mean nobody – has the latest and greatest in technologies like Jeep does! With the all-new available Uconnect 5, you'll have access to a 10.1-inch touchscreen that allows up to five user profiles and simultaneous dual-phone connectivity.
Fun
If it's not fun, we don't recommend you drive it. Seriously, we understand a vehicle is a significant investment. If you don't love it and have fun driving it, do not buy it. At Vatland Chrysler Dodge Jeep Ram, our team is confident our brands are the most fun to drive, and the Jeep Grand Cherokee L is no exception.
If you're taking a trip without music in the background, why even crank the car? With our available state-of-the-art sound system, you have front-row seats for your favorite artists. Created by renowned luxury home audio company McIntosh, you'll be surrounded by 19 custom-designed and expertly-placed speakers, a 17-channel amplifier that delivers up to 950 watts of power, and a 10-inch subwoofer. Turn it up and feel it in your bones.
We encourage you to try out our available multicolor Ambient LED Lighting. You'll be surprised how much lighting can change your mood. Choose settings for day and night and colors that help calm and soothe, or amp and charge you for the day ahead.
About Us
At Vatland Chrysler Dodge Jeep Ram, our team is committed to finding the perfect vehicle for your unique needs. We haven't met anyone yet that didn't love the all-new Jeep Grand Cherokee L. Featuring the capability and versatility you need and the fun you should have, this vehicle checks all our boxes!
Visit us TODAY on South, US-1. Let's work together to get a set of keys in your hand and a brand-new Jeep Grand Cherokee L in your driveway.